In mid-March, the housing market saw a steep decline in buyer traffic and showings. This rapid shift in the business caused great uncertainty about what the near future would look like for real estate.
However in recent weeks, we have seen initial positive signs that buyers are returning to the market and in need of listings to view. And while we'll continue to monitor these early indicators, it forecasts good news for the market.
According to a report from Zillow, web traffic to for-sale listings online has risen to levels comparable to past spring markets. While this may seem like an obvious result of people staying at home and browsing online for dream homes, showings are picking up as well.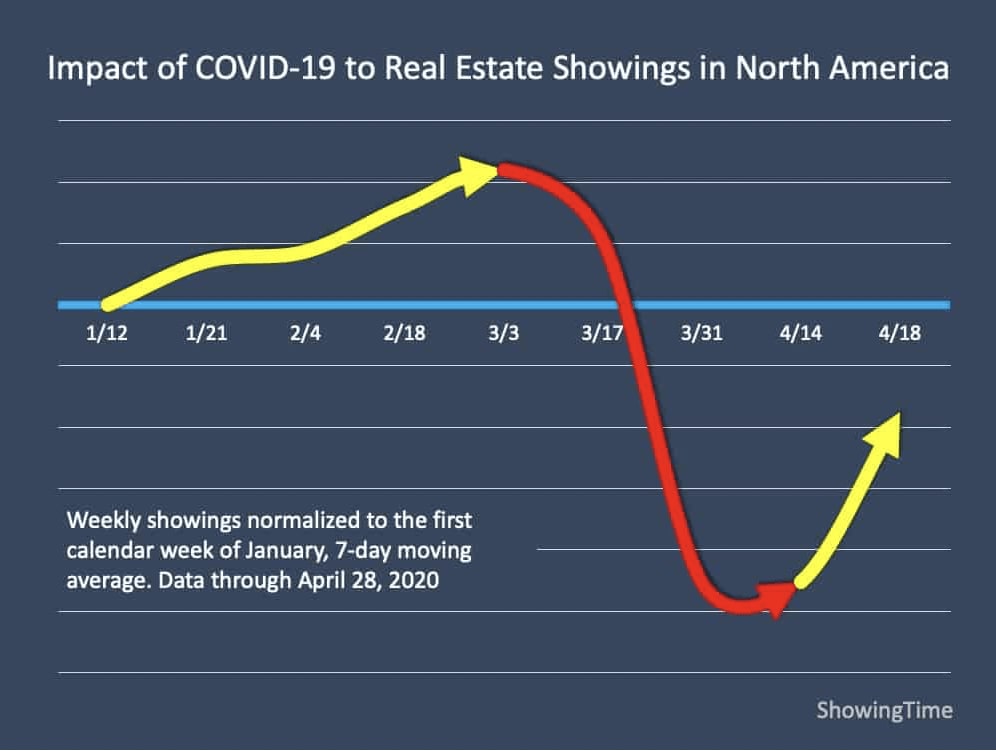 ShowingTime recently published that scheduled showings, both virtual and in-person, have been increasing week-over-week since mid-April. This rebound is a 39% growth from the decline two weeks prior. You can find your state-specific data on their site, as well.
From online viewings to showings and sales, these are the first positive signs since March that we could be turning a corner. But while buyers appear to be coming back to the market, sellers are not meeting the demand.
The question is, are potential sellers in your market aware that buyers are out there? As this could be a great time for sellers to list for a great price.
In a recent survey by realtor.com, people thinking about selling their homes indicated they're generally willing to allow their agent and some potential buyers inside if done under the right conditions. They're less comfortable, however, hosting an open house. This is understandable, given the health concerns associated with social contact these days.
Michael Lane of ShowingTime notes:
"We're seeing innovation coming out of pain, as agents have quickly embraced virtual showings to keep their business going…More and more virtual showings are scheduled every day through our systems, signaling that many markets are responding to this innovation positively."
In today's rapidly changing market, this is more important than ever. And some of these new practices might be here to stay.
What Sellers Need To Know in Today's Housing Market
While it's still a sellers' market, the peak frenzy the market saw over the past two years has cooled some. If you're asking yourself if you've missed your chance to sell your house and make a move, the good news is you haven't – motivated buyers are still out there and many are returning to the market. But you do need to price your house right for today's market. Here's why.
As Lawrence Yun, Chief Economist at the National Association of Realtors (NAR), says:
"Homes priced right are selling very quickly, but homes priced too high are deterring prospective buyers."
It's true buyer demand has slowed over the past few months as higher mortgage rates made it more expensive to buy a home. The result is fewer bidding wars and less competition among buyers (see visual below):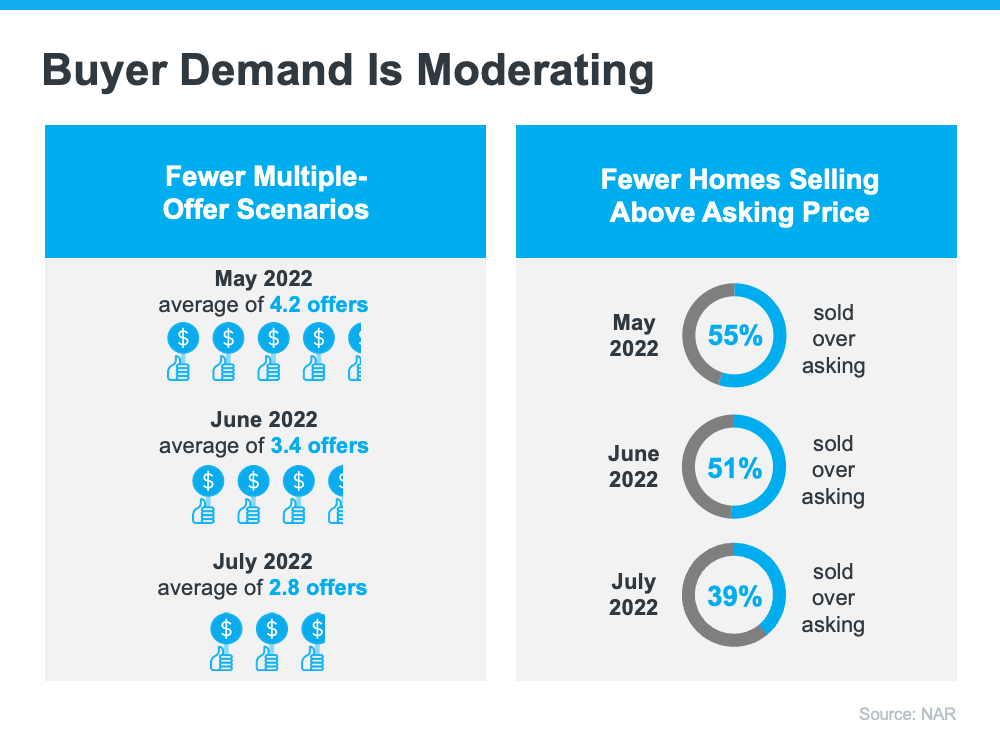 But don't forget – that's compared to the severely overheated market we saw over the past two years. According to the latest Confidence Index from NAR:
". . . 39% of homes sold above list price, down from 51% a month ago and 50% a year ago."
While this is a slower pace than even one month ago, serious buyers are still actively in the market, and they're buying homes that are priced right. In fact, the Confidence Index also notes the average home is selling in just 14 days.
If you're aiming to sell your house, be sure you're working with your agent to price it for today's housing market. As buyer demand softens, it's important to understand this isn't the same market as last year. It's not even the same market as just a few months ago. But it is still a sellers' market.
If you're ready to sell your house, seek the advice of a real estate professional. In some cases, you'll need to adjust your expectations accordingly to meet the market where it is today. Selma Hepp, Interim Lead, Deputy Chief Economist at CoreLogic, explains what's happening and what it means when you sell:
"Signs of a broader slowdown in the housing market are evident, . . . This is in line with our previous expectations and given the notable cooling of buyer demand due to higher mortgage rates. . . . Nevertheless, buyers still remain interested, which is keeping the market competitive — particularly for attractive homes that are properly priced."
What Does the Rest of the Year Hold for Home Prices?
Whether you're a potential homebuyer, seller, or both, you probably want to know: will home prices fall this year? Let's break down what's happening with home prices, where experts say they're headed, and why this matters for your homeownership goals.
Last Year's Rapid Home Price Growth Wasn't the Norm
In 2021, home prices appreciated quickly. One reason why is that record-low mortgage rates motivated more buyers to enter the market. As a result, there were more people looking to make a purchase than there were homes available for sale. That led to competitive bidding wars which drove prices up. CoreLogic helps explain how unusual last year's appreciation was:
"Price appreciation averaged 15% for the full year of 2021, up from the 2020 full year average of 6%."
In other words, the pace of appreciation in 2021 far surpassed the 6% the market saw in 2020. And even that appreciation was greater than the pre-pandemic norm which was typically around 3.8%. This goes to show, 2021 was an anomaly in the housing market spurred by more buyers than homes for sale.
Home Price Appreciation Moderates Today
This year, home price appreciation is slowing (or decelerating) from the feverish pace the market saw over the past two years. According to the latest forecasts, experts say on average, nationwide, prices will still appreciate by roughly 10% in 2022 (see graph below):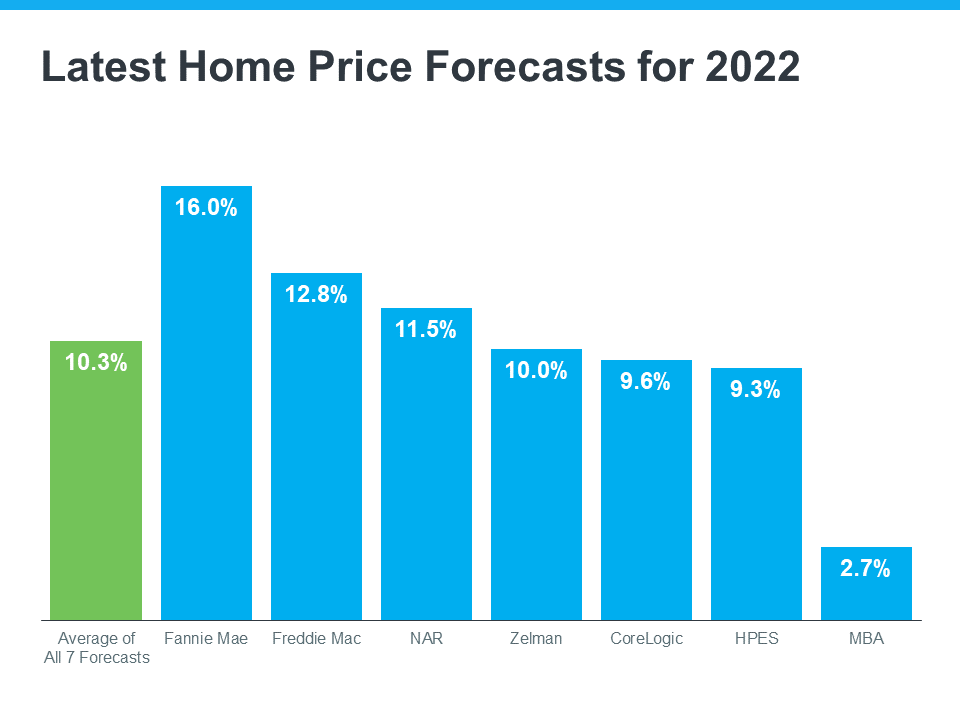 Why do all of these experts agree prices will continue to rise? It's simple. Even though housing supply is growing today, it's still low overall thanks to several factors, including a long period of underbuilding homes. And experts say that's going to help keep upward pressure on home prices this year. Additionally, since mortgage rates are higher this year than they were last year, buyer demand has slowed.
As the market undergoes this change, it's true price appreciation this year won't match the feverish pace in 2021. But the rapid appreciation the market saw last year wasn't sustainable anyway.
What Does That Mean for You?
Today, the market is beginning to move back toward pre-pandemic levels. But even the forecast for 10% home price growth in 2022 is well beyond the 3.8% that's more typical for a normal market.
So, despite what you may have heard, experts say home prices won't fall in most markets. They'll just appreciate more moderately.
If you're worried the house you're trying to sell or the home you want to buy will decrease in value, you should know experts aren't calling for depreciation in most markets, just deceleration. That means your home should still grow in value, just not as fast as it did last year.
Bottom Line
If you're thinking of making a move, Experts say nationally, prices will continue to appreciate this year, just at a more moderate pace. When you're ready to begin the process of buying or selling, Let's connect so you understand what's happening with buyer demand, local market expert and home prices in our local area as you get ready to enter the market.