The Orange County real estate market continues to exhibit resilience, maintaining a consistent upward trend and the foremost challenge remains an insufficient inventory, creating a market dynamic favoring sellers. And for today's video, we're taking a closer look at the 𝓞𝓻𝓪𝓷𝓰𝓮 𝓒𝓸𝓾𝓷𝓽𝔂 𝓜𝓪𝓻𝓴𝓮𝓽 𝓕𝓪𝓼𝓽 𝓢𝓽𝓪𝓽𝓼 for July 2023.


The median sold price of existing single-family homes in Southern California has shown a noteworthy increase in July 2023. Orange County presents a different picture, with a median sold price of $1.3M for single-family homes which is 3.6% higher while Condos and Townhomes, on the other hand have also seen a slight increase of 7.6% compared to last year.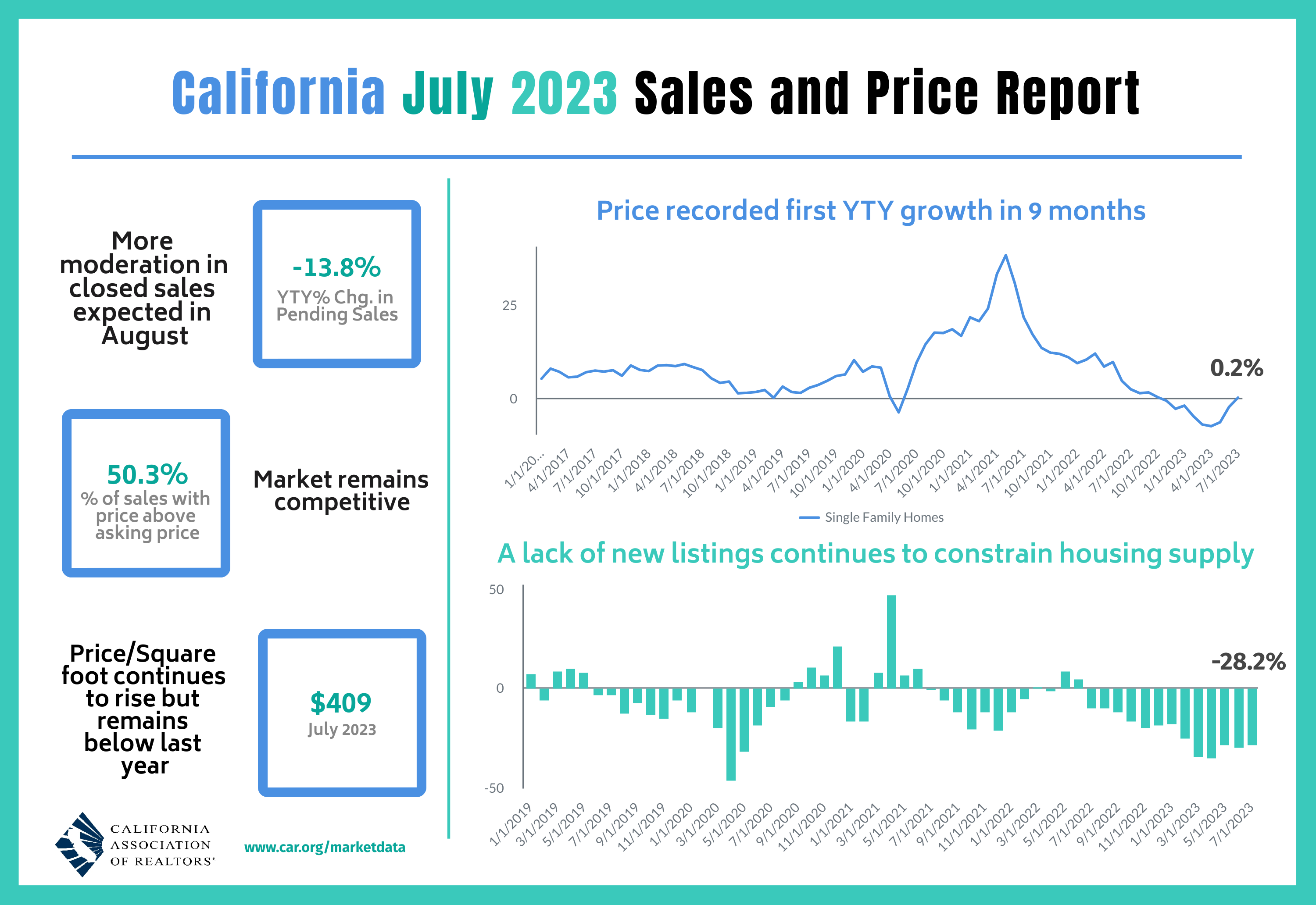 California median home price registers first annual price gain in 9 months; statewide sales take a step back in July, C.A.R. reports
Existing, single-family home sales totaled 269,180 in July on a seasonally adjusted annualized rate, down 3.0 percent from June and down 9.0 percent from July 2022.


July's statewide median home price was $832,340, down 0.7 percent from June and up 0.2 percent from July 2022.


Year-to-date statewide home sales were down 30.3 percent in July.


Closed escrow sales of existing, single-family detached homes in California totaled a seasonally adjusted annualized rate of 269,180 in July, according to information collected by C.A.R. from more than 90 local REALTOR® associations and MLSs statewide. The statewide annualized sales figure represents what would be the total number of homes sold during 2023 if sales maintained the July pace throughout the year. It is adjusted to account for seasonal factors that typically influence home sales.
July's sales pace was down 3.0 percent on a monthly basis from 277,490 in June and down 9.0 percent from a year ago, when a revised 295,770 homes were sold on an annualized basis. Sales of existing single-family homes in California remained below the 300,000-unit pace for the tenth consecutive month. The yearly drop was the smallest since April 2022 and marked the first time in more than a year that sales dropped by less than 10 percent from a year ago. However, the small decline was due partly to a lower sales base last July, when sales dropped below 300,000 for the first time in over two years.
"Despite slowing home sales in the past couple of months, housing demand remains resilient, and the market continues to be competitive," said C.A.R. President Jennifer Branchini, a Bay Area REALTOR®. "Many in the market aspire to become homeowners and are actively looking to buy, but the shortage of homes for sale and elevated mortgage rates remain challenging headwinds for them."
California's median home price exceeded $800,000 in July for the fourth straight month and had its first year-over-year gain in nine months. The statewide median price dipped 0.7 percent from June's $838,260 to $832,340 in July and was up 0.2 percent from a revised $830,870 a year ago. A resilient economy with solid job growth, coupled with a shortage of homes on the market are contributing factors to strong home prices. As the housing market transitions into the off-peak homebuying season in the coming months, the statewide median price will likely soften as market competition cools. Home prices, nevertheless, should continue to improve from last year as tight housing supply conditions persist.
"Housing supply continued to be tight in California as rates remain well above levels observed in 2020-2021, when homeowners locked in their long-term mortgages," said C.A.R. Senior Vice President and Chief Economist Jordan Levine. "While home sales have been negatively impacted by the shortage of homes for sale during this year's homebuying season, home prices continue to stabilize and have provided consumers with some confidence that market conditions are still solid. Interest rates should moderate later this year if inflation eases further, and home sales could see some improvement in the winter season."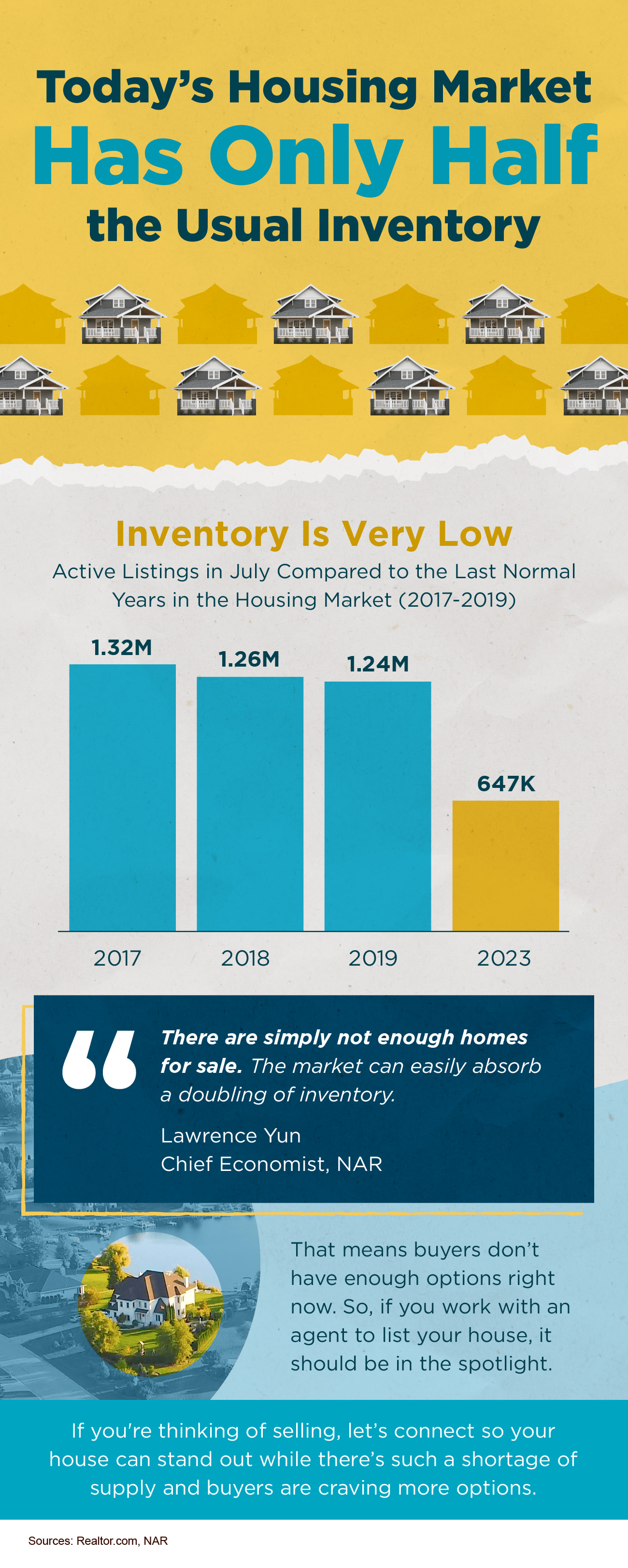 There are only about half the number of homes for sale compared to the last normal years in the market. That means buyers don't have enough options right now. So, if you work with an agent to list your house, it should be in the spotlight. If you're thinking of selling, let's connect so your house can stand out while there's such a shortage of supply and buyers are craving more options.
As we navigate through the second half of 2023, staying informed about local market conditions is important. So whether you're a buyer, seller, investor or considering to make a move, let's connect to discuss!