Nestled in the heart of Southern California, Orange County is renowned for its beautiful beaches, diverse communities, and thriving economy. As one of the most sought-after destinations for both residents and tourists, the Orange County housing market plays a crucial role in the region's overall real estate landscape. In this blog post, we will delve into the June 2023 report, exploring the median sold prices and sales figures for existing single-family homes in Orange County and its position in the broader Southern California housing market.
The Orange County housing market witnessed positive sales figures in June 2023. The month-to-month change in sales recorded an encouraging increase of 5.5%. In below's video, we're gonna take a look at the 𝓞𝓻𝓪𝓷𝓰𝓮 𝓒𝓸𝓾𝓷𝓽 𝓜𝓪𝓻𝓴𝓮𝓽 𝓕𝓪𝓼𝓽 𝓢𝓽𝓪𝓽𝓼 for JUNE 2023.


Orange County offers a blend of picturesque coastal cities, suburban neighborhoods, and bustling urban centers, making it an attractive place to live, work, and play. From the vibrant arts scene in Santa Ana to the upscale shopping in Newport Beach, the county offers a diverse range of amenities and activities for its residents. Additionally, Orange County's strong job market, top-notch schools, and favorable climate have contributed to its reputation as a prime location for both families and professionals.

The real estate market in Orange County, California has been a hot topic lately. Home prices in the area have been rising steadily, and buyers are often left wondering whether it's a good time to make a purchase. One common indicator of a seller's market is when there are more buyers than available homes for sale. So, is Orange County a seller's housing market?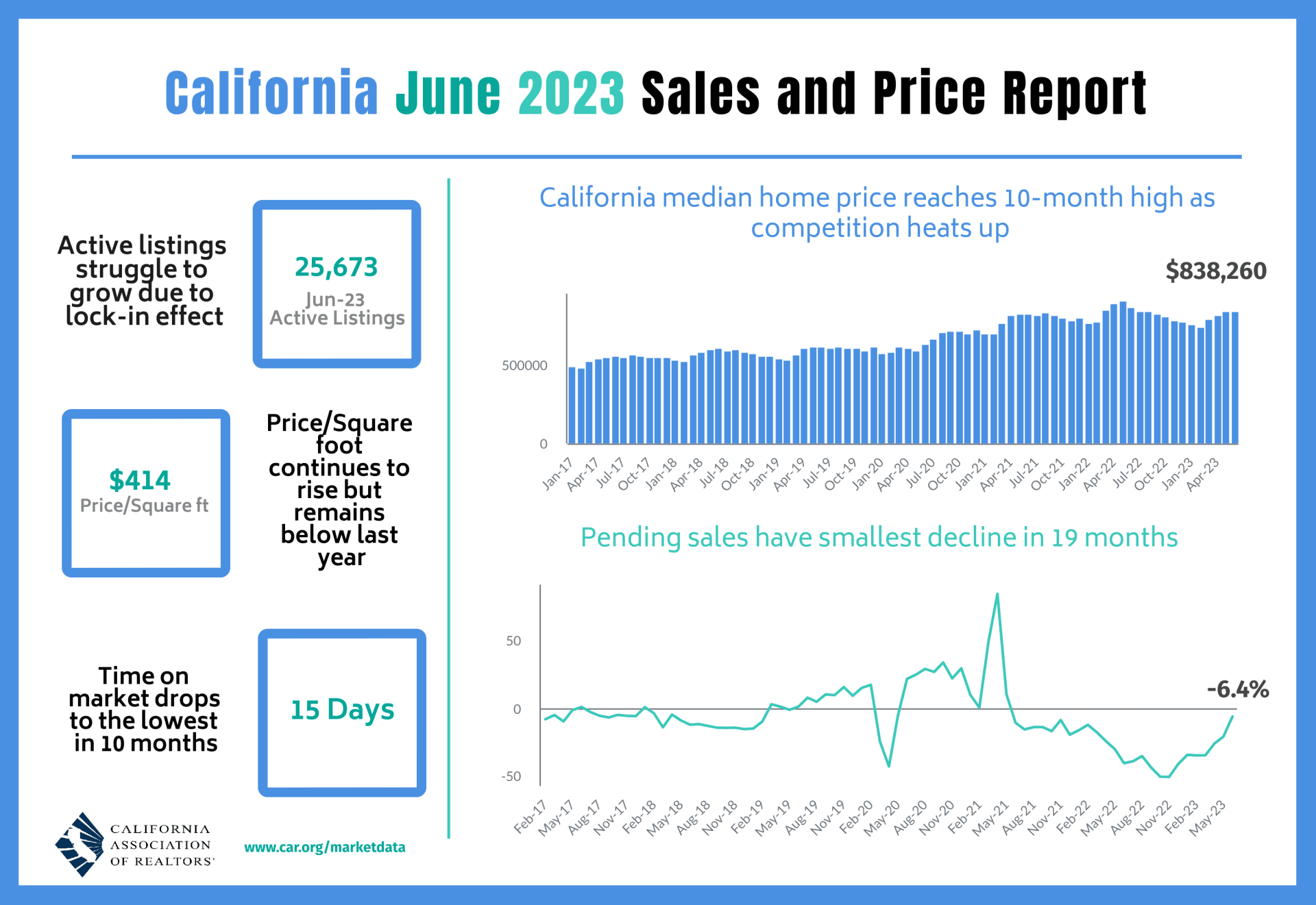 Elevated interest rates and limited new listings suppress California home sales in June, C.A.R. reports
The statewide median price remains above $800,000 for the third straight month, and the year-over-year price decline is the smallest since January 2023.
Existing, single-family home sales totaled 277,490 in June on a seasonally adjusted annualized rate, down 4.1 percent from May and down 19.7 percent from June 2022.

June's statewide median home price was $838,260, up 0.3 percent from May and down 2.4 percent from June 2022.

Year-to-date statewide home sales were down 32.9 percent in June.

Closed escrow sales of existing, single-family detached homes in California totaled a seasonally adjusted annualized rate of 277,490 in June, according to information collected by C.A.R. from more than 90 local REALTOR® associations and MLSs statewide. The statewide annualized sales figure represents what would be the total number of homes sold during 2023 if sales maintained the June pace throughout the year. It is adjusted to account for seasonal factors that typically influence home sales.
June's sales pace was down 4.1 percent on a monthly basis from 289,460 in May and down 19.7 percent from a year ago, when a revised 345,760 homes were sold on an annualized basis. Sales of existing single-family homes in California remained below the 300,000-unit pace for the ninth consecutive month. The yearly drop was the smallest since May 2022 and marked the first time in a year that sales dropped by less than 20 percent from a year ago. However, the smaller decline was due primarily to weaker sales last June, when sales dropped below 350,000 for the first time in two years.

"California's housing market has improved since the winter and appears to have found its footing as sales declined at the slowest pace in over a year," said C.A.R. President Jennifer Branchini, a Bay Area REALTOR®. "Despite elevated interest rates, the demand for housing continues to outpace the availability of homes for sale, as buyers slowly adapt to the new normal under the current housing market conditions."
In a market that's shifting as fast as it is today, many homeowners and buyers are wondering if it is the best time to make a move. So if you have questions and for a more in-depth understanding of the home price trends, stats and reports, let's connect.