If you're thinking about buying or selling a home, you might have heard that it's tough right now because mortgage rates are higher than they've been over the past few years, and home prices are rising. That much is true. Take a look at the graph below. It breaks down how the current affordability situation stacks up to recent years.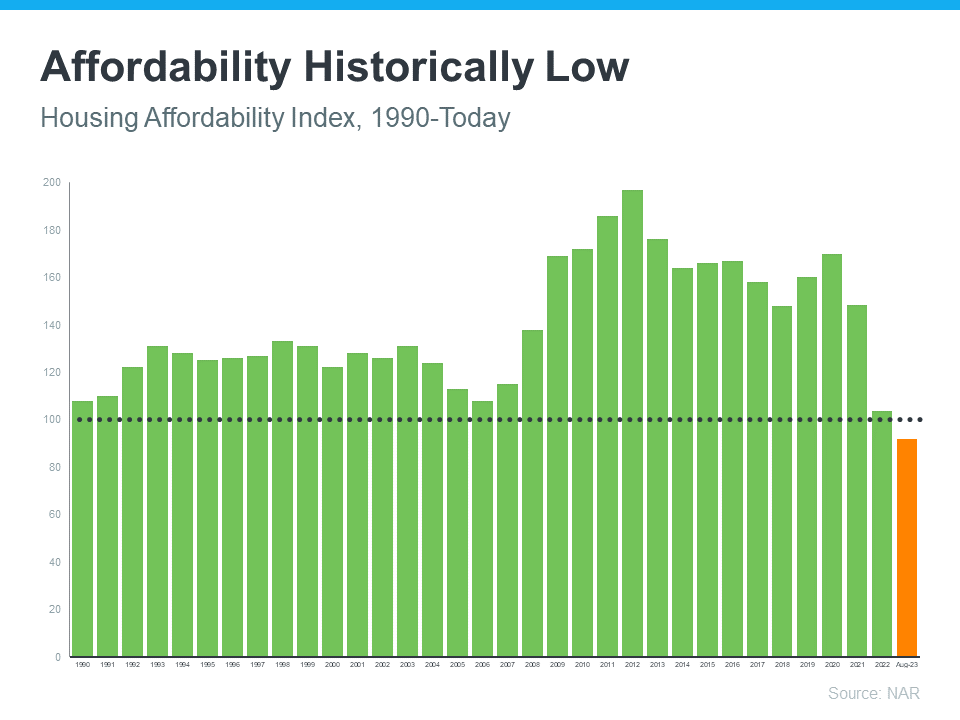 The National Association of Realtors (NAR) explains how to read the values on the graph:
"To interpret the indices, a value of 100 means that a family with the median income has exactly enough income to qualify for a mortgage on a median-priced home."
The black dotted line represents that 100 value on the index. Essentially, the higher the bar, the more affordable homes are. As you can see, the orange bar for today shows higher mortgage rates and home prices have created a clear challenge. But, while affordability is definitely tighter right now, that doesn't mean the housing market is at a standstill.
According to NAR, based on the pace of sales right now, just under 4 million homes will sell this year. With some simple math, let's break down what that really means for you:
3.96 million homes divided by 365 days in a year = 10,849 houses sell each day
10,849 divided by 24 hours in a day = 452 houses sell per hour
452 divided by 60 minutes in an hour = about 8 houses sell each minute
So, on average, over 10,000 homes sell each day in this country. Whether you're a buyer or a seller, this goes to show there are still ways to make your move possible, even at a time when affordability is tight.
An Agent Can Help You Make Your Move a Reality
You may be wondering how other homebuyers and sellers are making this happen now. One of the biggest game-changers in today's market is working with a trusted local real estate agent. Great agents are helping other people just like you navigate today's market and the current affordability situation, and their insight is invaluable right now.
True professionals will be able to offer advice tailored to your specific wants, needs, budget, and more. Not to mention, they'll also be able to draw on their experience of what's working for other buyers and sellers right now. This could mean broadening your search, if needed, to include other housing types like condos, townhouses, or neighborhoods a bit further out to help offset some of the affordability challenges today.

If you're worried about this too, know that even though rates are high right now, so is home equity. Here's what you need to know.


Bankrate explains exactly what equity is and how it grows:
"Home equity is the portion of your home that you've paid off and own outright. It's the difference between what the home is worth and how much is still owed on your mortgage. As your home's value increases over the long term and you pay down the principal on the mortgage, your equity stake grows."
In other words, equity is how much your home is worth now, minus what you still owe on your home loan.


How Much Equity Do Homeowners Have Now?
Recently, your equity has been growing faster than you might think. To help contextualize just how much the average homeowner has, CoreLogic says:
". . . the average U.S. homeowner now has about $290,000 in equity."
That's because, over the past few years, home prices went up significantly – and those rising prices helped your equity to accumulate faster than usual. While the market has started to normalize, there are still more people wanting to buy homes than there are homes available for sale. This high demand is causing home prices to go up again.


According to the Federal Housing Finance Agency (FHFA), the Census, and ATTOM, a property data provider, nearly two-thirds (68.7%) of homeowners have either fully paid off their mortgages or have at least 50% equity (see chart below):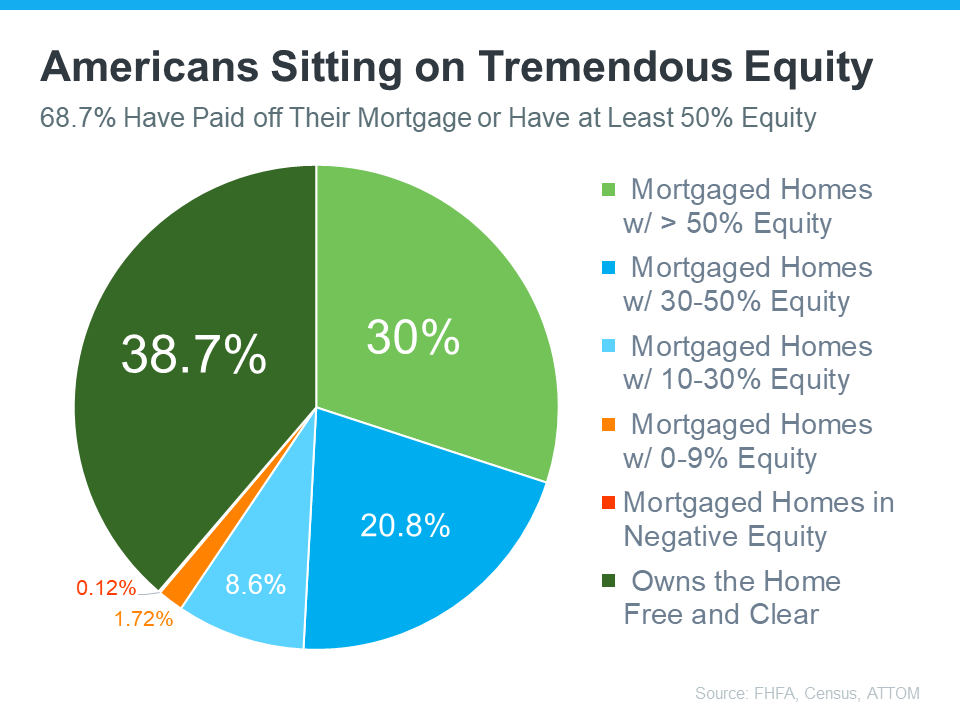 That means nearly 70% of homeowners have a tremendous amount of equity right now.

How Equity Helps with Your Affordability Concerns
With today's affordability challenges, your equity can make a big difference when you decide to move. After you sell your house, you can use the equity you've built up in your home to help you buy your next one. Here's how:


Be an all-cash buyer: If you've been living in your current home for a long time, you might have enough equity to buy a new house without having to take out a loan. If that's the case, you won't need to borrow any money or worry about mortgage rates. The National Association of Realtors (NAR) states:
"These all-cash home buyers are happily avoiding the higher mortgage interest rates . . ."

"Increasing your down payment lowers your principal loan amount and, consequently, your loan-to-value ratio, which could lead to a lower interest rate offer from your lender."
Bottom Line
You might think there aren't many people buying or selling homes right now since affordability is tighter than it's been in quite some time, but that's not the case. It's true that buying a home has become more expensive over the past couple of years, but people are still moving.
If you're hoping to buy or sell a home today, know that other people are still making their goals a reality – and that's happening in large part because of the help and advice of skilled local real estate agents. Want to talk to a trusted professional about your own move? Let's connect.