When it comes to selling your house, you're probably trying to juggle the current market conditions and your own needs as you plan your move.

One thing that may be working in your favor is how few homes there are for sale right now. Here's what you need to know about the current inventory situation and what it means for you.

The Supply of Homes for Sale Is Far Below the Norm
When you're selling something, it helps if what you're selling is in demand, but is also in low supply. Why? That makes it even more desirable since there's not enough to go around. That's exactly what's happening in the housing market today. There are more buyers looking to buy than there are homes for sale.
To tell the story of just how low inventory is, here's the latest information on active listings, or homes available for sale. The graph below uses datafrom Realtor.com to show how many active listings there were in September of this year compared to what's more typical in the market.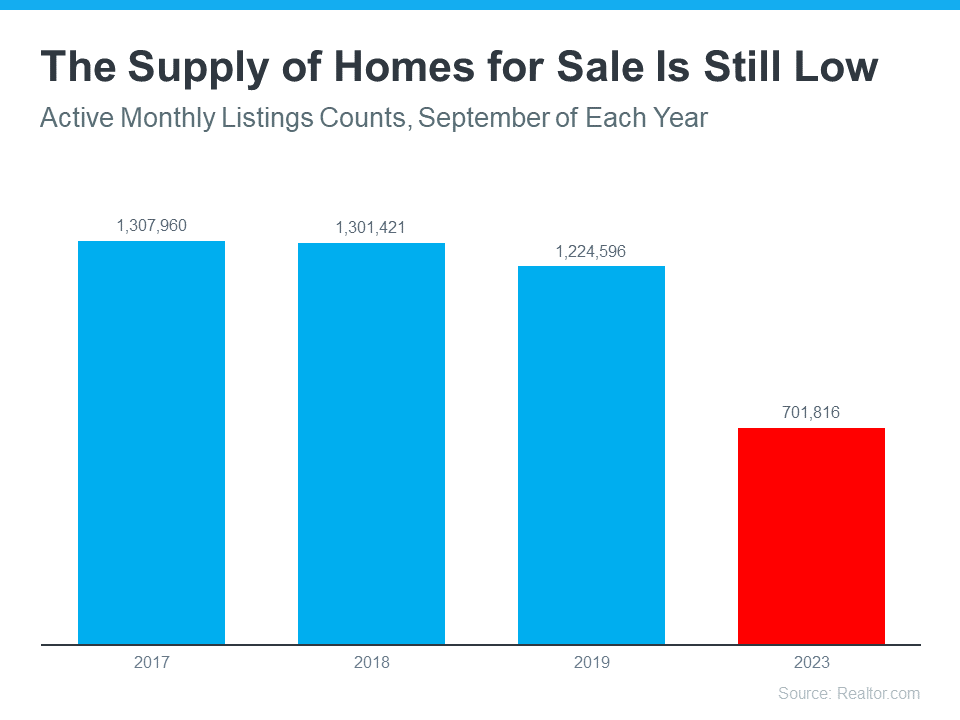 As you can see in the graph, if you look at the last normal years for the market (shown in the blue bars) versus the latest numbers for this year (shown in the red bar), it's clear inventory is still far lower than the norm.

What That Means for You
Buyers have fewer choices now than they did in more typical years. And that's why you could still see some great perks if you sell today. Because there aren't enough homes to go around, homes that are priced right are still selling fast and the average seller is getting multiple offers from eager buyers. Based on the latest data from the Confidence Index from the National Association of Realtors (NAR):
69% of homes sold in less than a month.
2.6 offers: the average number of offers on recently sold homes.
An article from Realtor.com also explains how the limited number of houses for sale benefits you if you're selling:
". . . homes spent two weeks less on the market this past month than they did in the average September from 2017 to 2019 . . . as still-limited supply spurs homebuyers to act quickly . . ."

Selling your house is a big decision. And that can make it feel both exciting and a little bit nerve-wracking. But the key to a successful sale is finding the perfect listing agent to work with you throughout the process. A listing agent, also known as a seller's agent, helps market and sell your house while advocating for you every step of the way.
But, how do you know you've found the perfect match in an agent? Here are three key skills you'll want your listing agent to have.
They Price Your House Based on the Latest Data
While it may be tempting to pick the agent who suggests the highest asking price for your house, that strategy may cost you. It's easy to get caught up in the excitement when you see a bigger number, but overpricing your house can have consequences. It could mean it'll sit on the market longer because the higher price is actually deterring buyers.
Instead, you want to pick an agent who's going to have an open conversation about how they think you should price your house and why. A great agent will base their pricing strategy on solid data. They won't throw out a number just to win your listing. Instead, they'll show you the facts, explain their pricing strategy, and make sure you're on the same page. As NerdWallet explains:
"An agent who recommends the highest price isn't always the best choice. Choose an agent who backs up the recommendation with market knowledge."
They're a Great Negotiator
The home-selling process can be emotional, especially if you've been in your house for a long time. You're connected to it and have a lot of memories there. This can make the negotiation process harder. That's where a trusted professional comes in.
A skilled listing agent will be calm under pressure and will be your point-person in all of those conversations. Their experience in handling the back-and-forth gives you with the peace of mind that you've got someone on your side who's got your best interests in mind throughout this journey.
They're a Skilled Problem Solver
At the heart of it all, a listing agent's main priority is to get your house sold. A great agent never loses sight of that goal and will help you prioritize your needs above all else. If they identify any necessary steps you need to take, they'll be open with you about it. Their commitment to your success means they'll work with you to address any potential roadblocks and find creative solutions to anything that pops up along the way.
BankRate explains it like this:
"Just as important as the knowledge and experience agents bring is their ability to guide you smoothly through the process. Above all, go with an agent you trust and will feel comfortable with. . ."
Bottom Line
Whether you're a first-time seller or you've been through selling a house before, a great listing agent is the key to success. Let's connect so you have a skilled local expert by your side to guide you through every step of the process.
Because the supply of homes for sale is so low, buyers desperately want more options – and your house may be just what they're looking for. Let's connect to get your house listed at the right price for today's market. You could still see it sell quickly and potentially get multiple offers.