One of the biggest questions people are asking right now is: what's happening with home prices? And if you're trying to decide whether or not to buy a home or sell your current house before the holidays, It's possible you've seen news stories mentioning a drop in home values or home price depreciation, at the same time there are also headlines about ongoing price appreciation, but some sellers are reducing the price of their homes. That can feel confusing and makes it more difficult to get a clear picture.
Part of the challenge is that it can be hard to understand what experts are saying when the words they use sound similar. Let's break down the differences among those terms to help clarify what's actually happening today.


What's Really Happening with Home Prices?
It's possible you've seen news stories mentioning a drop in home values or home price depreciation, but it's important to remember those headlines are designed to make a big impression in just a few words. But what headlines aren't always great at is painting the full picture.

While home prices are down slightly month-over-month in some markets, it's also true that home values are up nationally on a year-over-year basis. The graph below uses the latest data from S&P Case-Shiller to help tell the story of what's actually happening in the housing market today:

As the graph shows, it's true home price growth has moderated in recent months (shown in green) as buyer demand has pulled back in response to higher mortgage rates. This is what the headlines are drawing attention to today.
But what's important to notice is the bigger, longer-term picture. While home price growth is moderating month-over-month, the percent of appreciation year-over-year is still well above the home price change we saw during more normal years in the market.
The bars for January 2019 through mid-2020 show home price appreciation around 3-4% a year was more typical (see bars for January 2019 through mid-2020). But even the latest data for this year shows prices have still climbed by roughly 10% over last year.


What Does This Mean for Your Home's Equity?
While you may not be able to capitalize on the 20% appreciation we saw in early 2022, in most markets your home's value, on average, is up 10% over last year – and a 10% gain is still dramatic compared to a more normal level of appreciation (3-4%).
The big takeaway? Don't let the headlines get in the way of your plans to sell. Over the past two years alone, you've likely gained a substantial amount of equity in your home as home prices climbed. Even though home price moderation will vary by market moving forward, you can still use the boost your equity got to help power your move.
As Mark Fleming, Chief Economist at First American, says:
"Potential home sellers gained significant amounts of equity over the pandemic, so even as affordability-constrained buyer demand spurs price declines in some markets, potential sellers are unlikely to lose all that they have gained."
Experts Project Ongoing Appreciation
Pulsenomics polled over 100 economists, investment strategists, and housing market analysts in the latest quarterly Home Price Expectation Survey (HPES). The results show what the panelists project will happen with home prices over the next five years. Here are those expert forecasts saying home prices will go up every year through 2027 (see graph below):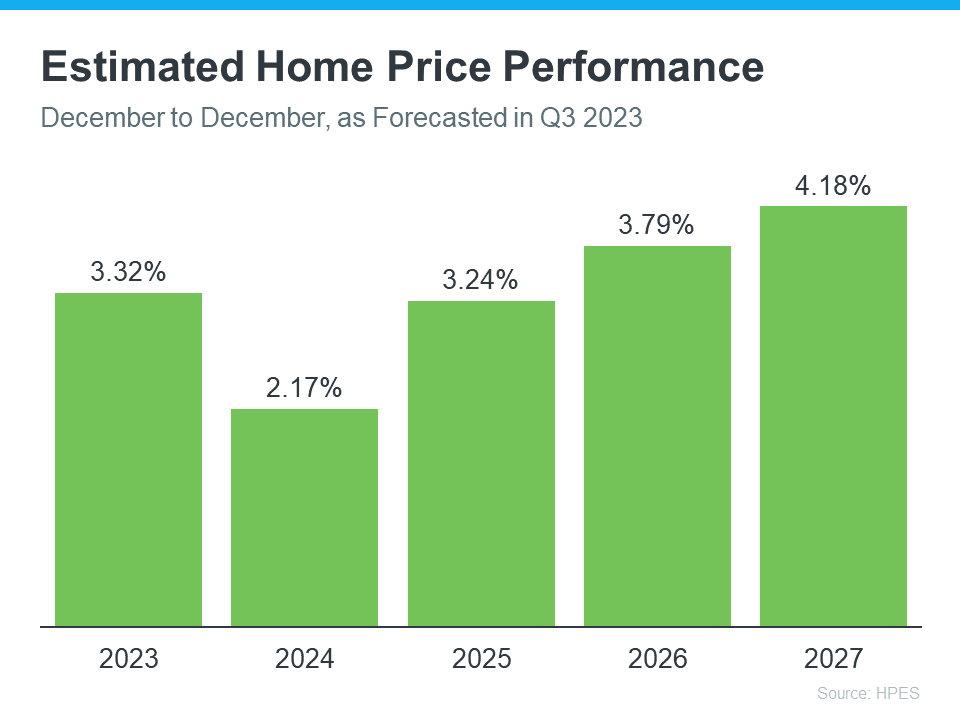 If you're someone who was worried home prices would fall because of stories you've read online, here's the big takeaway. Even though home prices vary by local market, experts project prices will continue to rise across the country for years to come. And these numbers indicate the return to more normal home price appreciation.
And while the projected increase in 2024 isn't as large as 2023, it's important to recognize home price appreciation is cumulative. In other words, if these experts are correct, after your home's value rises by 3.32% this year, it'll appreciate by another 2.17% next year. This is a good example of why owning a home is a choice that wins big over time.
What Does This Mean for You?
Once you buy a home, price appreciation raises your home's value, and that grows your household wealth. To see how a typical home's value could change in the next few years using the expert projections from the HPES, check out the graph below: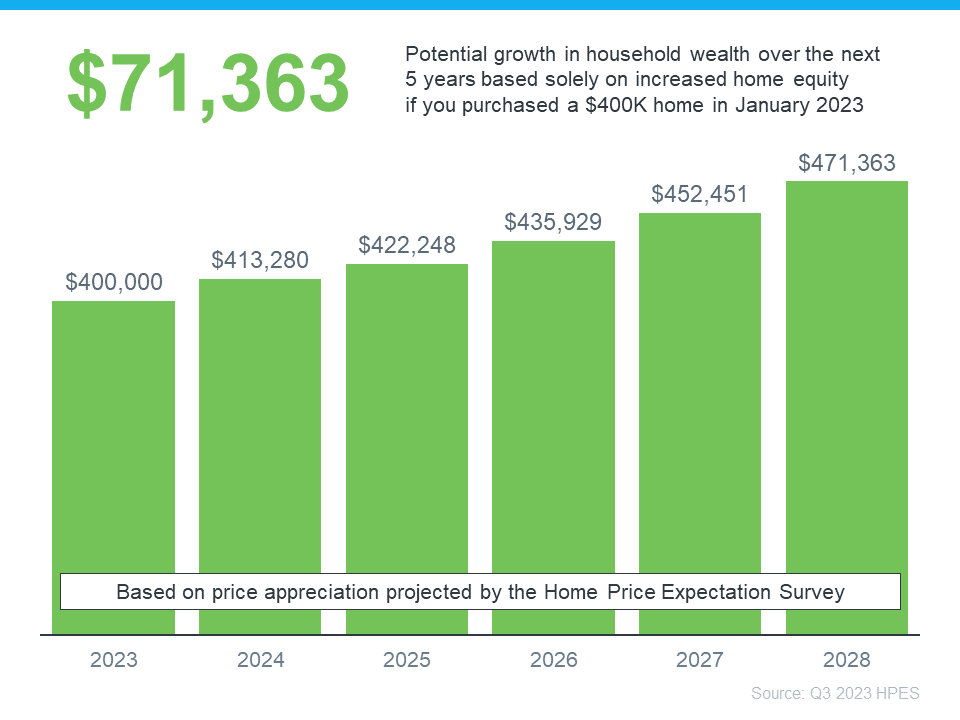 In this example, let's say you bought a $400,000 home at the beginning of this year. If you factor in the forecast from the HPES, you could potentially accumulate more than $71,000 in household wealth over the next five years.
So, if you're thinking about whether buying a home is a good choice, remember how it can be a powerful way to grow your wealth in the long run.

Bottom Line
According to the experts, home prices are expected to grow over the next five years at a more normal pace. If you're ready to become a homeowner, know that buying today can set you up for long-term success as home values (and your own net worth) grow. Let's connect to start the homebuying process today.

Some Highlights
Looking at monthly home price data from six expert sources shows the worst home price declines are behind us, and they're risingagain nationally.
If you've put your plans to move on pause because you were worried about home prices crashing, this rebound is good news.