The annual inflation rate for the United States was 6.0% for the 12 months ended February, following a rise of 6.4% in the previous period, according to U.S. Labor Department data published March 14, 2023. The next inflation update is scheduled for release on April 12 at 8:30 a.m. ET, and it will provide information on the rate of inflation over the 12 months ended March 2023.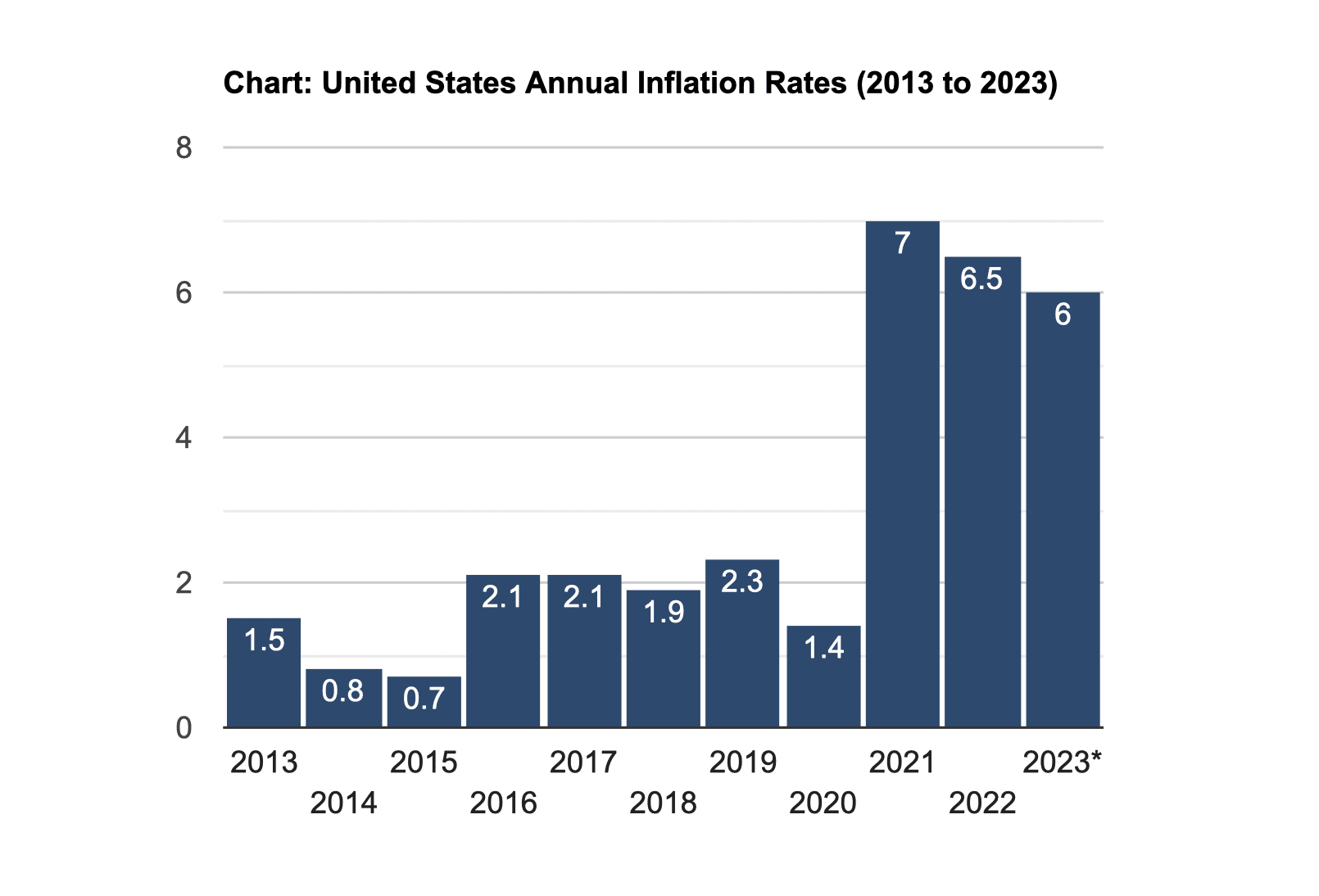 Here is a chart and table displaying annual US inflation rates for calendar years from 2000 and 2013 to 2023. For inflation rates in prior years, please refer to historical inflation rates. If you would like to calculate the accumulated rates between two different dates, you can use the US Inflation Calculator.


HOME PRICES HAVE EXCEEDED INFLATION

Home prices have risen at a significantly higher rate than inflation since 2020, 42% compared to 14%, according to a new report from Clever.
Clever's new report analyzed how inflation and home prices have increased over the decades, honing in 2020 vs. 2022. The report found that the median home price has risen from $329,000 in 2020 to $468,000 in 2022, while the price of goods rose from $3 to $3.48.
DATA RESOURCES: https://www.cnbc.com/2023/02/14/consumer-price-index-january-2023-.html, https://www.aljazeera.com/economy/2023/2/14/us-inflation-slows-to-6-4-but-price-pressures-remain, https://www.usinflationcalculator.com/inflation/current-inflation-rates/, https://www.usatoday.com/story/money/economy/2023/02/14/cpi-january-inflation-data-today-live-updates/11247836002/, https://www.rismedia.com/2023/03/14/inflation-sinks-again-focus-now-banks/, https://www.rismedia.com/2023/03/31/core-inflation-still-persists/, https://www.rismedia.com/2023/03/31/homes-prices-have-exceeded-inflation/