67% of Americans say a housing market crash is imminent in the next three years. With all the talk in the media lately about shifts in the housing market, it makes sense why so many people feel this way. But there's good news. Current data shows today's market is nothing like it was before the housing crash in 2008.
Back Then, Mortgage Standards Were Less Strict
During the lead-up to the housing crisis, it was much easier to get a home loan than it is today. Banks were creating artificial demand by lowering lending standards and making it easy for just about anyone to qualify for a home loan or refinance an existing one.
As a result, lending institutions took on much greater risk in both the person and the mortgage products offered. That led to mass defaults, foreclosures, and falling prices. Today, things are different, and purchasers face much higher standards from mortgage companies.
The graph below uses data from the Mortgage Bankers Association (MBA) to help tell this story. In this index, the higher the number, the easier it is to get a mortgage. The lower the number, the harder it is.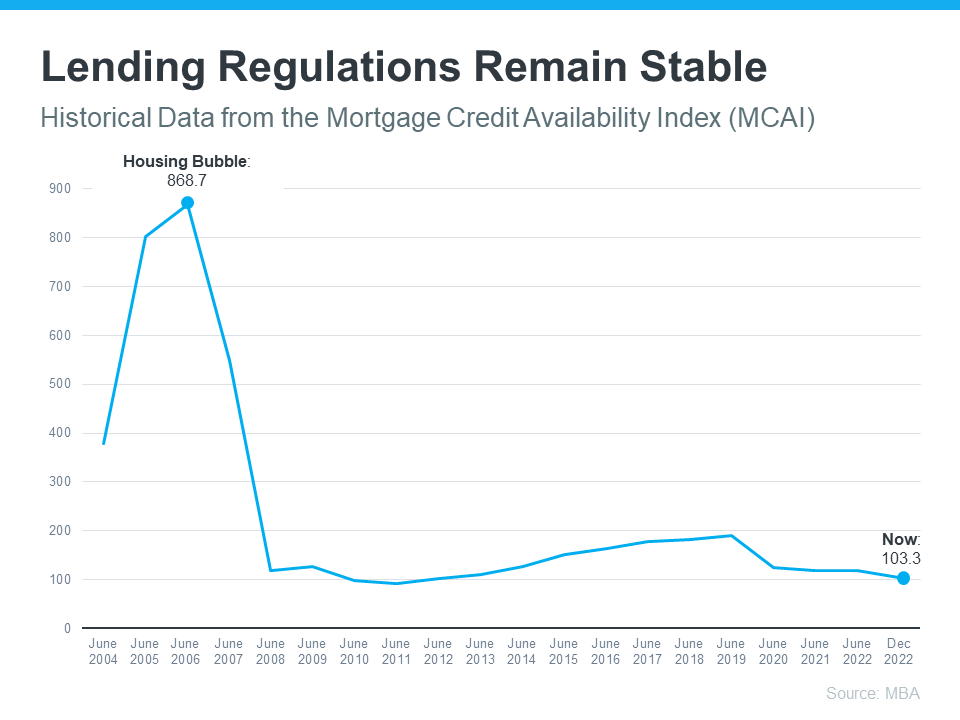 This graph also shows just how different things are today compared to the spike in credit availability leading up to the crash. Tighter lending standards have helped prevent a situation that could lead to a wave of foreclosures like the last time.
Foreclosure Volume Has Declined a Lot Since the Crash
Another difference is the number of homeowners that were facing foreclosure when the housing bubble burst. Foreclosure activity has been lower since the crash, largely because buyers today are more qualified and less likely to default on their loans. The graph below uses data from ATTOM to show the difference between last time and now: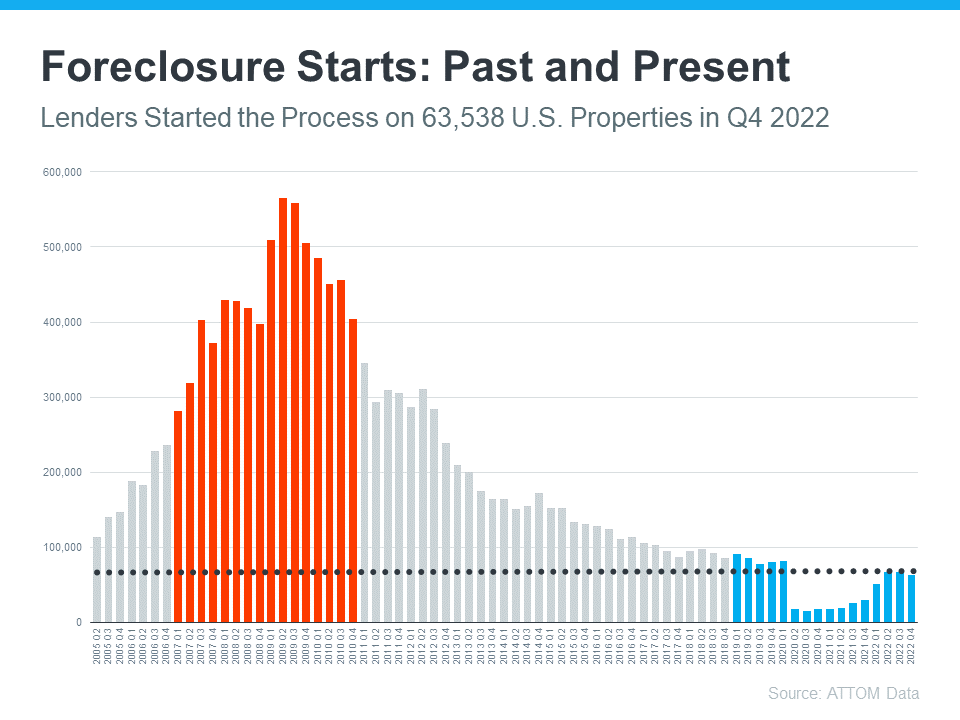 So even as foreclosures tick up, the total number is still very low. And on top of that, most experts don't expect foreclosures to go up drastically like they did following the crash in 2008. Bill McBride, Founder of Calculated Risk, explains the impact a large increase in foreclosures had on home prices back then – and how that's unlikely this time.
"The bottom line is there will be an increase in foreclosures over the next year (from record level lows), but there will not be a huge wave of distressed sales as happened following the housing bubble. The distressed sales during the housing bust led to cascading price declines, and that will not happen this time."
The Supply of Homes for Sale Today Is More Limited
For historical context, there were too many homes for sale during the housing crisis (many of which were short sales and foreclosures), and that caused prices to fall dramatically. Supply has increased since the start of this year, but there's still a shortage of inventory available overall, primarily due to years of underbuilding homes.
The graph below uses data from the National Association of Realtors (NAR) to show how the months' supply of homes available now compares to the crash. Today, unsold inventory sits at just 2.7-months' supply at the current sales pace, which is significantly lower than the last time. There just isn't enough inventory on the market for home prices to come crashing down like they did last time, even though some overheated markets may experience slight declines.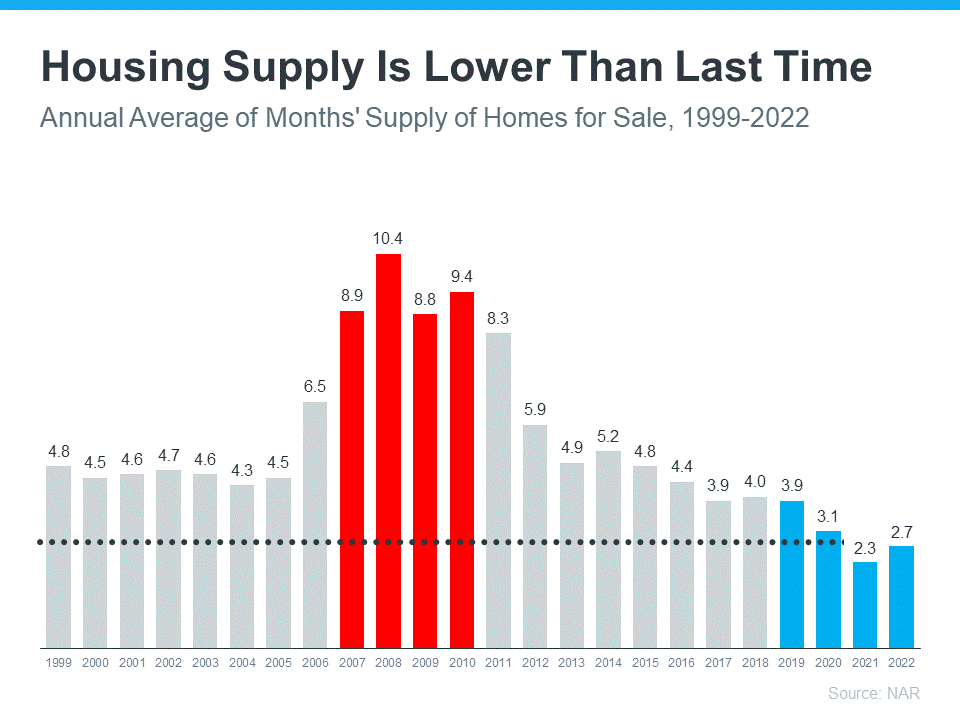 Bottom Line
If recent headlines have you worried we're headed for another housing crash, the data above should help ease those fears. Expert insights and the most current data clearly show that today's market is nothing like it was last time.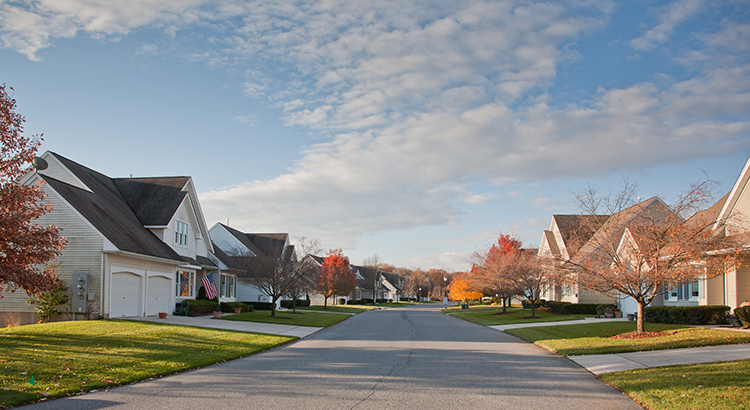 Why You Shouldn't Fear Today's Foreclosure Headlines
If you've seen recent headlines about foreclosures surging in the housing market, you're certainly not alone. There's no doubt, the stories in the media can be pretty confusing right now. They may even make you think twice about buying a home for fear that prices could crash. The reality is, the data shows a foreclosure crisis is not where the market is headed, and understanding what that really means is mission critical if you want to know the truth about what's happening today. Here's a deeper look.
According to the Year-End 2022 U.S. Foreclosure Market Report from ATTOM, foreclosure filings are up 115% from 2021, but down 34% from 2019. As media headlines grab onto this 115% increase, it's more important than ever to put that percentage into context.
While the number of foreclosure filings did more than double last year, we need to remember why that happened and how it compares to more normal, pre-pandemic years in the market. Thanks to the forbearance program and other relief options for homeowners, foreclosure filings were down to record-low levels in 2020 and 2021, so any increase last year is — no surprise — a jump up. Rick Sharga, Executive VP of Market Intelligence at ATTOM, notes:
"Eighteen months after the end of the government's foreclosure moratorium, and with less than five percent of the 8.4 million borrowers who entered the CARES Act forbearance program remaining, foreclosure activity remains significantly lower than it was prior to the COVID-19 pandemic. It seems clear that government and mortgage industry efforts during the pandemic, coupled with a strong economy, have helped prevent millions of unnecessary foreclosures."
Clearly, these options meant millions of homeowners could stay in their homes, allowing them to get back on their feet during a very challenging period. With home values rising at the same time, many homeowners who may have found themselves facing foreclosure under other circumstances were able to leverage their equity and sell their houses rather than face foreclosure, and that trend continues today.
And remember, as the graph below shows, foreclosures today are far below the record-high 2.9 million that were reported in 2010 when the housing market crashed.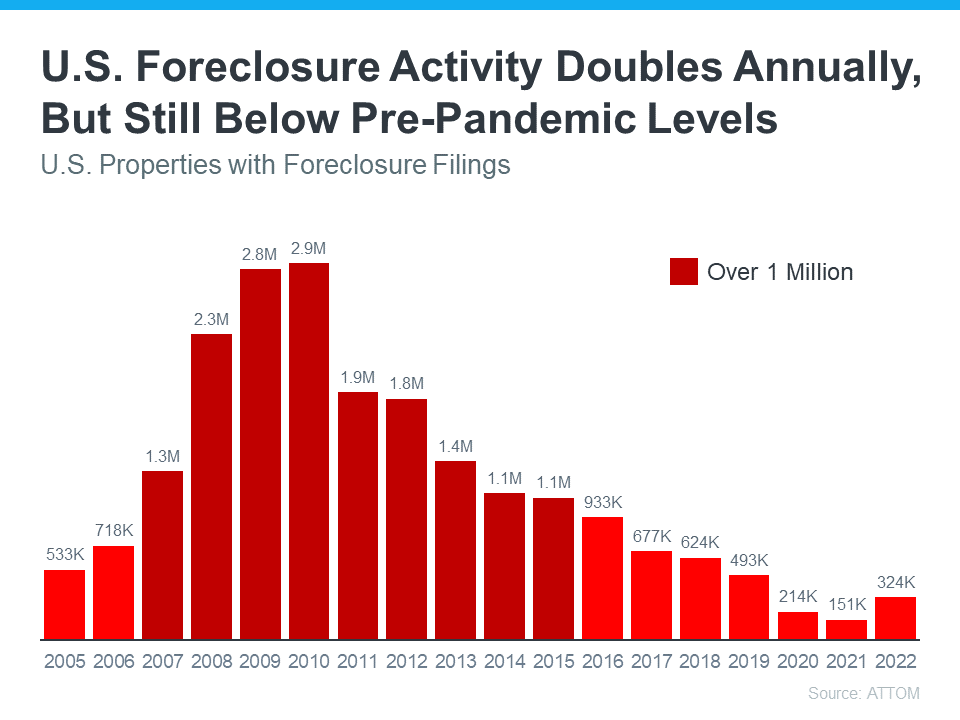 So, while foreclosures are rising, keeping perspective in mind is key. As Bill McBride, Founder and Author of Calculated Risk, noted just last week:
"The bottom line is there will be an increase in foreclosures over the next year (from record low levels), but there will not be a huge wave of distressed sales as happened following the housing bubble. The distressed sales during the housing bust led to cascading price declines, and that will not happen this time."
Bottom Line

Right now, putting the data into context is more important than ever. While the housing market is experiencing an expected rise in foreclosures, it's nowhere near the crisis levels seen when the housing bubble burst, and that won't lead to a crash in home prices.