WELCOME TO PORTOLA SPRINGS


The ideal suburban community and Irvine's best-kept secret!



Redefining the way of life in the Irvine suburbs, Portola Springs is a master-planned luxury community with scenic views of Loma Ridge and Catalina Island. With over 15 resort-style amenities in a family-friendly community, Portola Springs is everything you would want in a Southern California neighborhood. With excellent schools, abundant outdoor recreation spaces, and diverse dining and shopping options just minutes away, Portola Springs is the ideal community for families, young professionals, or empty-nesters looking for a quiet life outside of the bustling city of Irvine.
With over 300,000 residents, the master-planned city of Irvine is a major metropolitan area of Orange County, California. Several prominent businesses in the tech industries have their headquarters in the city, and there are over six college campuses in the downtown district or surrounding suburbs. Bursting with activity and culture, there is something for everyone in Irvine and with year-round perfect temperatures and the proximity to the mountains
and
the beach, Irvine offers the ideal location for those seeking a vibrant and exciting Southern California lifestyle.
What to Love
Access to miles of trails within Loma Ridge

Award-winning schools, two of which are located within the boundaries of Portola Springs

A perfect balance of quiet suburban with ritzy amenities in downtown Irvine

Local Lifestyle
Portola Springs is known for its tranquil streets and family-focused activities. The neighborhood is located in the perfect spot — close to boundless outdoor natural reserves, trails, and parks, yet within minutes from upscale restaurants and glamorous shopping. Portola Springs is ideal for families with busy lifestyles but are looking to make their home a quiet oasis away from the city.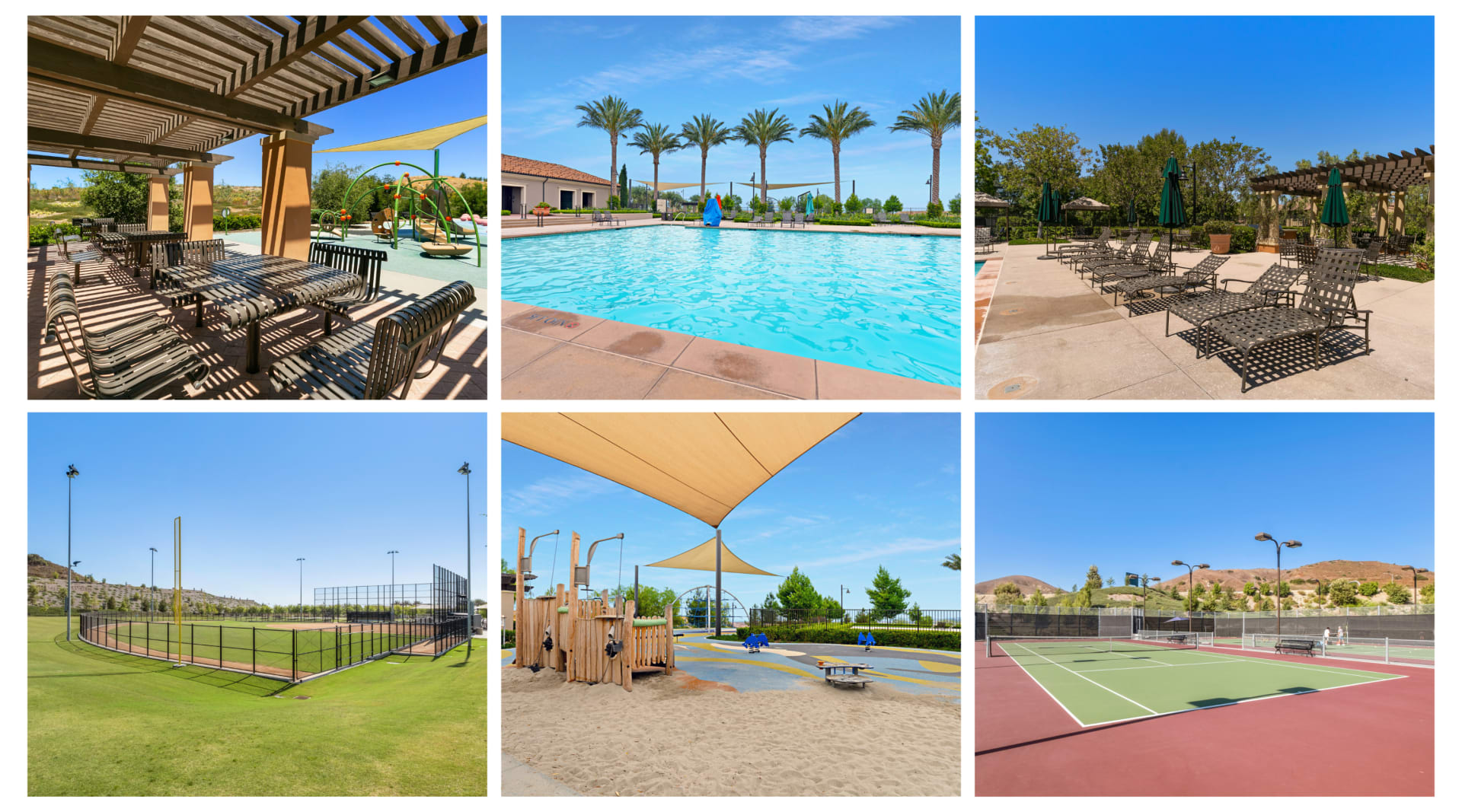 Dining, Entertainment, and Shopping
Serving luxury, high-end coffee,
Wall Writers Coffee
features roasts from all over California and beyond to bring a sumptuous treat to coffee aficionados in the neighborhood. Offering a modern and chic atmosphere with unique drips and tasty baked goods, Wall Writers Coffee is the local spot for your morning brew or the perfect destination to get work done while enjoying the welcoming, laid-back atmosphere and impeccable drinks.
The Stand
believes in great food and equally great service, which is why they're so highly rated within the Irvine community. They offer fresh food, homemade goods, and locally sourced ingredients with excellence in mind.
Menu
items include "Standwiches," hot dogs, artisan burgers, and a rotating seasonal menu with some of the chef's favorite creations.
Shopping in Portola Springs has never been easier, thanks to the convenient location of the
Irvine Spectrum Center
. Home to hundreds of retailers and restaurants, you can find something for all interests, styles, and tastes at the Spectrum. Don't forget to check their website for special workout classes, fashion shows, storytimes at Barnes and Noble, and exclusive concerts throughout the year.
Things to Do
The
Jeffrey Open Space Trail
is something truly unique to the neighborhoods of Irvine. This open space corridor connects the city of Irvine through 3.5 miles of trails with a planned extension to run over Interstate 5 and along the Santa Ana Mountains. The trail is the perfect way to experience the natural beauty of Irvine.
A brand new venue for live music in a more intimate space,
FivePoint Amphitheater
brings incredible performers to the city of Irvine. Originally the Irvine Meadows Amphitheater, FivePoint now offers a more comfortable space for attendees and performers to experience the thrill of an outdoor show. Catch a concert and enjoy an excellent meal from one of many creative food trucks throughout the venue for an ultimate night out.
For gorgeous views and endless trails to wander, visit
Limestone Canyon Nature Preserve
, a spectacular lush canyon of oak woodlands and streamside habitats. Rich in biodiversity, the preserve is the ideal location for hikers, bikers, and explorers and hosts educational workshops and programs for all ages throughout the year.


Schools
There are a few high-achieving schools near the Portola Springs community. A few include: